Autoaux global retail store: http://autoaux.aliexpress.com
As everyone knows, shipping package from China is cheaper than asking the express shipping company in your country pick up the package from the manufacturer in China .

If you want us to buy samples or dropship for you from other China suppliers to overseas, we can offer a quick and cheap shipping service .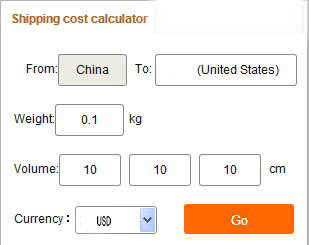 We have extensive experience in transporting shipments worldwide for the lowest prices. Due to our great experience and the high amount of volume shipments, we are professional in transferring packages from all over China to any destination in the world at the cheapest price.
We offer reasonable price for dropship service: 5$/parcel or lower if your parcels are in big quantity
Just contact us for more information.
For example shipping from China to USA/France/Spain/UK/Germany/Canada/Sweden/Latvia for a sample weight of 500 grams:

0.5KG from China to UAE by Aramex: 13$ only
All kinds of shipping methods are available: DHL/UPS/Aramex/Registered air mail/EMS/Fedex/TNT
{Important Notice for shipping}:


[Prohibited goods]: fake licenses fake brand goods, alcoholic liquids, spray containers, butane lighters, medical waste, toxic materials, asbestos, corrosive materials, cash, checks, counterfeit money, food, tea, drugs, dry ice, flammable explosive materials, obscene materials, above the standard magnetic materials, oxide and organic peroxides, weapons and ammunition, dissolved paint, and other local law prohibiting the posting of items.


[Restricted goods]: sports and used firearms, batteries, items containing batteries, emergency drugs for medical or scientific research, live animals, the standard of magnetic materials, perishable goods, radioactive materials, vaccines, etc.


Additional notes about Express Service(s):
(1) The above fees do not include Remote Area Surcharges.


If your destination should fall outside of the normal shipping area (remote, sparsely populated or geographically difficult to access), then you will be notified of more charges.


(2) The chargeable weight is either the actual gross weight or the dimensional weight (DIM Weight), whichever is greater.


DIM weight = Length (cm) * Width (cm) * Height (cm) / 5000

Related links:
http://www.autoaux.com/news.htm